Now that the Holidays are over we can all take a moment to invest in a little #SelfCare. Which is why we decided to welcome 2018 with TWO great deals designed to give you the best skin of your life.  Save on our Laser Skin Rejuvenation when a packge of three treatments of either Photo Rejuvenation or Skin Tightening Treatments ($900) and recieve a free Glytone Chemical Peel Package ($297). First time Botox Clients can save $50 off their FIRST Treatment when they sign up for Brilliant Distinctions. 
Make this year the year of you and finally get the skin you've always dreamed of, just in time for Spring!  This combination approach is specially designed to help fight the most common signs of aging (think fine lines, wrinkles, sagging skin and age spots) and restore your glow! See how and why Laser Skin Rejuvenation and Chemical Peels can help you reveal healthy, smoother, tighter skin in just three treatments! Scroll to see a video of what the process looks like and see if this Dream Team is right for you. Offer Valid until February 10th, 2018.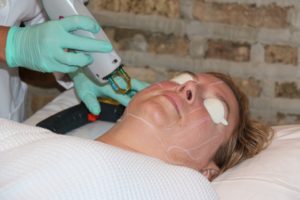 What is Laser Skin Rejuvenation?
Laser Skin Rejuvenation is a term used to describe two different treatments:Skin Tightening and Photo Rejuvenation. We use the Candela GentleMAX to stimulate different layers of the skin in order to promote collagen stimulation and the skin's own ability to regenerate itself.
Photo Rejuvenation works to correct sun spots/damage by concentrating the laser on the darker areas of the skin, bringing them to the surface until they eventually slough off. Whereas Skin Tightening delivers a controlled amount of therapeutic heat into the lower dermis in order to spark collagen remodeling and contracting to lift the skin.
How will Chemical Peels Enhance The Results of My Laser Treatments?
Combing Chemical Peels and the Laser treatments you are able to work on the skin on many different levels. While the Laser Rejuvenation is working on the deepest layers of your skin, the chemical peels exfoliate the top layers to reveal healthier, younger looking skin.
Here at Lapiel we recommend scheduling your Chemical Peel two weeks after your Laser Skin Rejuvention treatment which helps both with hyperpigmentation and cellular turnover.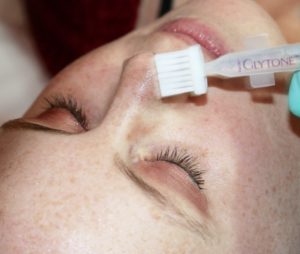 Am I a good candidate for Laser Skin Rejuvenation?
Laser Skin Rejuvenation is perfect for anyone looking to correct the most visible signs of aging. Whether is Sun Damage, fine lines, sagging skin or simply dull textured skin, Laser Skin Rejuvenation is the perfect treatment to restore your skin's glow!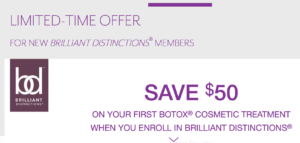 How Do I Take $50 Off My First Botox Treatment?
Whether it's your first Botox treatment or you're simply new to Brilliant Disntinctions– You can save $50 off your treatment when you register for Brilliant Disntinctions. Simply follow the steps below and get ready to save on your Botox Treatments.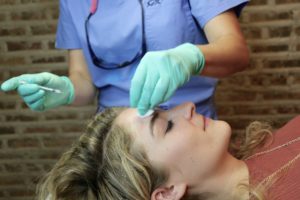 Steps To Savings
Step 1: Sign up for Brilliant Distictions using this link.
Step 2: Print or Screen Shot your coupon
Step 3: Schedule your Botox appointment and be sure to bring in your coupon as well as your new member ID
Step 4: SAVE! We'll take care of the rest.
Happy New Year!!
Lapiel Staff
Save