There are so many options when it comes to choosing the right serum for your skin and even more skin care buzz words when it comes to ingredients. Part of what sets Lapiel and our Products apart has to do with our Staff and their ability to curate a collection of products to suit any skin type. Read on to find out more about our favorites, when you should start using them, and why we love them as much as we do.
Bamboo Firming Fluid: A Gentle Introduction to Retinol In Your 20s

Unless you've spent the last 10 years living under a rock, you've heard about the many benefits of adding a retinol to your skin care regimen. Retinols are often toted as the holy grail of serums. They help fight fine lines & wrinkles, exfoliate the skin and promote cellular reproduction. However a full strength retinol in your 20s can be a tad harsh for your skin. Cue: Eminence Organic's Bamboo Firming Fluid.  This award winning serum has been on the company's best seller list for years and there are many reasons why. Our favorite? You get all the benefits of using a Retinol in a much gentler, organic formula. Get ready for firmer more hydrated skin in as little as 4 weeks! So go ahead, get started early and see those early signs of aging start to fade for just $58.
Rosehip Triple C & E Firming Oil: The Key to Firmer, Glowing Skin in Your 30s

If you've ever wondered what product every single person on staff has in common you need wonder no longer. The Rosehip C+E Firming Oil is basically your glow-in-a-bottle-skin-saver during cold Chicago Winters. Jam packed with antioxidants, this serum is designed to deeply hydrate your skin and infuse it with Vitamins C and E for maximum anti-aging and smoothing benefits. Added to your Bamboo Firming Fluid, you will see a noticeable different in the tone & texture of your skin. Layer at night or use your Rosehip Oil at Night and Bamboo Firming Fluid in the morning for best results. Skin will appear plumper, more hydrated and suffer less environmental damage. Pick up your sample today and see why this $110 Serum/Oil cannot stay on our shelves.
Retriderm: The No Fuss Key to Radiant Skin in your 40s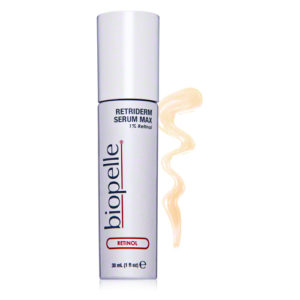 When Lapiel first started carrying skin care we knew that we needed to carry a Retinol serum that set itself apart from the never ending list of drugstore and beauty counter brands promising the same results. Which is why we jumped for joy when we discovered Biopelle and their line of results oriented Clinical Products that can only be carried when you have a Doctor on Staff. This particular Retinol comes in 3 Versions: Mild, Plus, and Max. Each iteration contains a percentage of retinol designed to go up as your skin's tolerance increases. The entire Retriderm line contains Vitamin A, or rather Retinol in its most powerful and natural form, for increased absorption and best possible results. Skin becomes noticeably softer, smoother and firmer with daily use. Prices start at $75.
Tensage: Replenish, Reinforce, & Restore in your 50s

The older we get the more we're looking for a product that makes a difference on multiple levels. We love the Tensage Daily Serum for so many reasons but the biggest has to be its ability to work on many of our least favorite signs of aging including the appearance of Sun Damage. This super serum is designed with the patented SCA Biorepair Index to help repair photo damage, protect the skin against free radical damage all while brightening & firming the skin. Used twice daily this $125 serum helps turn back the clock and maintain the results of professional treatments like Chemical Peels & Laser Skin Rejuvenation.