Dealing with acne is hard, dealing with problem skin in a world full of perfect instagram posts can be even more difficult. Which is why we are loving that Blogger Emma Lenhart was brave enough to share her struggle with acne and how Glytone Chemical Peels here at Lapiel helped her skin and left her feeling a whole lot more confident!
Whether you're someone who struggles with acne, has been thinking about starting a regimen of Glytone Chemical Peels or maybe have a teen at home who's struggling with problem skin, Emma's post is sure to resonate with you.
Check out our favorite excerpts from her post at EmmaLenhart.com
Why Chemical Peels?
I have had acne-prone, oily, hormonal skin for my entire life. Not the controllable, "once every blue moon" type of acne. The really painful, annoying, kind.

Growing up, I tried almost everything on the market. If you can name a brand, I bet you I've already tried their 3-step system. I invested so much time and money into trying to "fix" my skin. I visited dermatologists for years, tried every topical solution they gave me, and even started ingesting oral pills to help my skin.

Nothing worked.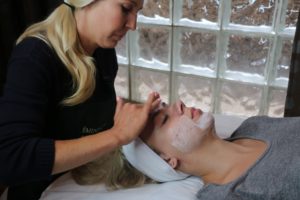 Why Lapiel?
What I love about Lapiel Laser Center is that when you first start going, they really take the time to listen to your skin concerns. They explain what they would recommend and WHY, so you're constantly in the loop
To read Emma's full post, see her before & afters, and check out a cool Q&A with Julie be sure to click HERE.
Make sure to follow Emma on Instagram & Facebook to follow up with her skin care routine as well as to get to know this really cool girl! We could not have loved working with her more.

Interested in learning more about dealing with Acne?
Schedule a free consultation with our Aesthetician Julie to learn more about our acne busting solutions. She would love to sit down with you and discuss how Glytone Chemical Peels can change how deal with problem skin and develop the perfect at home regimen to finally reveal the glowing skin you've always wanted. Make 2018 the clearest year yet!
Call (773) 248-4247  or contact us via email at info@lapiellaser.com
Save
Save