So many of our clients ask us this question! Whether its a Chemical Peel, Silkpeel Microdermabrasion treatment, or yes, even that Laser Skin Rejuvenation, treatments like this require maintenance. While the number one suggestion we have is always SPF (of at least 30, applied throughout the day, even throughout the winter months!), we believe that adding an exfoliation step to your routine can help maximize your in office treatment results and help you maintain those results at home. Which is why are loving and sharing our favorite Eminence Organic Exfoliating Peels with you! See how adding one to your regimen can leave your skin feeling brighter, softer, and more vibrant.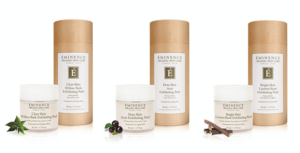 As you may already know, at home peels are having a MAJOR moment right now. You can't walk into a Sephora or Blue Mercury without being bombarded with Glycolic or Hyluronic or some other kind of -onic. At home peels help remove dead skin cells mainly through the use of acids which loosen the bonds between cells and dissolve dead skin away. Unlike scrubs, peel ingredients sink into the skin, targeting deeper layers of skin cells. What sets the Eminence Organic Exfoliating Peels apart is the ability to choose just the right combination of acids to ideally suit your skin type and concern. These revolutionary peels use fruit-sourced acids like Alpha Hydroxy Acids (AHA) and Beta Hydroxy Acids (BHA) to gently slough away dead skin cells, clean pores, and reveal a more youthful skin. Use one to two pumps in circular motions all over the face and neck and carry on with your usual skin care routine! These peels are designed to be left on the skin and used 3-4 times per week. A perfect addition to your beauty arsenal, Eminence Organic Exfoliating Peels are perfect for big events and days when you're feeling like you could use a little extra radiance!
Choosing the right peel can perfectly complement your professional treatments and help you maintain that post-treament glow way beyond the day of your treatment. Priced at about a dollar a peel, the only thing to think about is which one you should pick up!
Bright Skin Licorice Root Exfoliating Peel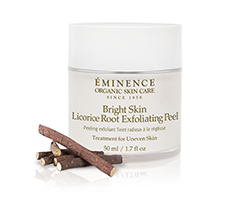 Kick Summer Sun Damage and uneven skin to the curb with this treatment!  Lactic and mandelic acids remove dead skin cells while licorice root and our Natural Hydroquinone Alternative from African potato and tara tree brighten the appearance of dark spots.
Firm Skin Acai Exfoliating Peel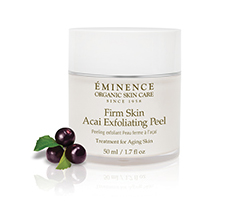 This firming peel solution is formulated for normal to dry or mature skin types. Packed with antioxidants sourced from acai berry, grapefruit and goji, the peel also includes lactic and glycolic acids for firmer looking skin.
Clear Skin Willow Bark Exfoliating Peel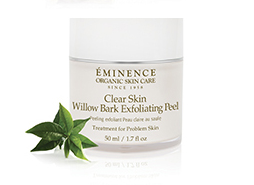 A deep-cleansing, clarifying peel solution for problem skin types. Ingredients include salicylic acid which removes surface impurities, willow bark to calm the look of skin, while lilac helps reduce the appearance of redness and inflammation.
All Three peels are priced at $79… Take home a sample today!
Save