Help us help some very deserving CPS Students this fall!
Recently one of our amazing clients told us about her classroom at Schmid Elementary on Chicago's South Side.  Schmid Elementary is  a Pre-k through 8th grade, title 1 school. It is small neighborhood school so the supplies truly benefit the entire school. Quinlan, a teacher at Schmid (and an amazing Barre teacher over at Pure Barre Lakeview) described the very real need for basic supplies like paper and pencils and things we sometimes take for granted as our kids get ready to head into the new school year. With that in mind we were driven to find a way to help her help her students after the initial back-to-school rush!
Bring in any two items from the list below and we'll treat you to a full size version of our Eminence Organic Apricot Body Oil!
-Copy Paper
-Pencils
-Lined Paper
-Notebook
-Index Cards
-Coloring Supplies
-Construction Paper
– Hand Sanitizer
We will be collecting supplies through the end of November. Stop by anytime and add your donation to our Supply Box and pick up your free Apricot Body Oil($28 Value). No purchase neccessary! Thank you for helping us help the kids at Schmid Elementary!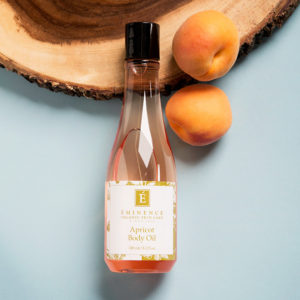 Seduce your senses with our luxurious Apricot Body Oil.   A Vogue, ELLE and Marie Claire favorite, this award-winning body oil blends fragrant apricot, moisturizing grape seed and hydrating jojoba oils for skin that is irresistibly smooth and supple from head to toe.
Check out some of the amazing uses of our favorite body oil that go way beyond a simple moisturizer!
REMEDY DRY ELBOWS & KNEES
Not just for backrubs, the Apricot Body Oil is also fantastic for dry, rough body parts including elbows and knees. As good as the best body lotion for dry skin, this rich body oil sinks moisture into your dry, winter-ravaged skin and smooths out rough problem areas.
Personal Favorite Alert:
CONDITION DRY HAIR ENDS
Don't restrict this oil to just skin care! If you suffer from thirsty, damaged hair ends, our Apricot Body Oil can step in as your emergency intensive hair conditioner. Just dab a few drops of the oil on hair ends to rehydrate and repair.
TREAT RAGGED CUTICLES
Nails and cuticles tend to suffer during harsh winter months, developing a ragged and unkempt look. If you find your cuticles desperate for a little TLC, rub in a drop of Apricot Body Oil to smooth them out and nourish your nail beds. Your nails (and hands!) will look sleek again in no time.
Check out more uses for this miracle oil HERE